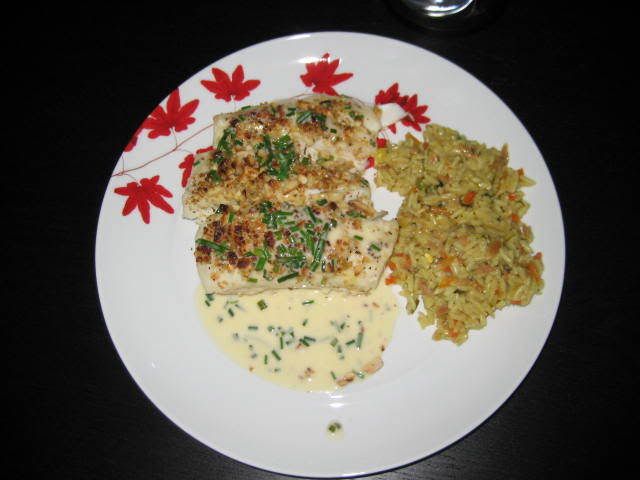 Source:
http://www.allrecipes.com/
You may be thinking, "WTF is up with this recipe name?" Yes, this is by far the snobbiest-named dish I have ever made, but it is also, by far, THE BEST FISH DISH. Maybe that has something to do with the 12 tablespoons of butter and 1/3 cup of heavy cream, but the combination of the beurre blanc (I don't know what that means but it sure sounds FANCY!)cream and breadcrumb/almond topping is TO DIE FOR. It's a great company dish!
My suggestion would be to prepare as much as you can ahead of time. Chop the chives, slice the butter, and get out all the pans, measuring cups, spoons, and dishes that you'll need. I'm pretty slow in the kitchen, and this takes about an hour to put together. I used halibut today because it was available, but it IS expensive ($30 for 2 filets). Tilapia will do just fine.
Seriously, make this just for the sauce.
1/3 cup of dry white wine
2 tablespoons of cider vinegar
2 tablespoons of minced shallots 1 sprig of fresh thyme
1 bay leaf
1/3 cup heavy cream
10 tablespoons of unsalted butter, cut into tablespoon-sized pieces and chilled
3 tablespoons of chopped fresh chives
2 teaspoons of lemon juice
salt and pepper to taste
6 (6 ounce) filets of halibut (I used 2 big filets, I probably only needed one)
2 tablespoons of vegetable oil
1 tablespoon of unsalted butter
1/4 cup of fresh bread crumbs (I just use the boxed Progressive brand)
2/3 cup of minced blanched almonds (buy the slivered almonds and then pound with your mallet)
1 tablespoon of unsalted butter, melted
1 egg, lightly beaten
To make the beurre blanc: in a small saucepan over medium heat, combine wine, vinegar, shallots, thyme, and bay leaf. Boil until liquid has evaporated--about 5 minutes. While the ingredients are boiling, now is a good time to chop the chives. Then, stir in cream, and boil until liquid is reduced by half; decrease heat to low. Whisk in butter, 1 piece at a time, adding each new piece before previous one has melted. Do not allow sauce to simmer, or it may separate.
Strain sauce through sieve into a glass bowl. Stir in chives, lemon juice, and salt and pepper. At this point, the recipe tells you to put the bowl in another bowl filled with hot water to keep warm. I just left it as is and microwaved in on low heat in 20 second intervals right before I served the dish. You'll have enough dishes to do by the time this is done without adding another.
Preheat oven on broiler setting. Pat fillets dry, and season with salt and pepper. Heat oil and 1 tablespoon of butter in a large skillet over medium heat. Saute fillets for 2 to 3 minutes on each side, or until lightly browned and just cooked through. Remove from heat.
In a small bowl, stir together bread crumbs, almonds, and 1 tablespoon of melted butter. Brush tops of fillets with egg, and spread with almond mixture. Broil fillets 1 to 2 minutes. Watch carefully so the topping does not burn.
Place fillets on individual plates, and spoon bleurre blanc around it. Prepare to have compliments lavished upon you, and resist spooning the bleurre blanc directly in your mouth without eating any of the fish.