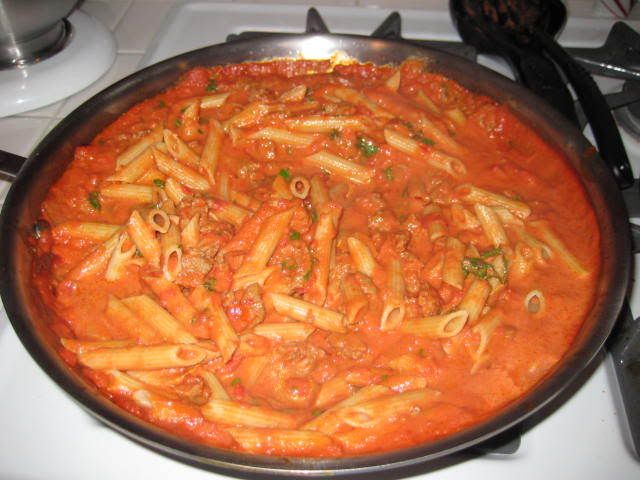 Adapted from:
http://www.allrecipes.com/
This is one of our all-time favorite dishes. It's also simple to make, which I love. As much as my middle-child self loves to attempt complex recipes, it's nice to have an easy one. And did I mention it's DELICIOUS??
Another note is that I always try to use turkey instead of ground beef, or in this case, Italian sausage links. I can never taste the difference and it's a bit healthier.
1 pound uncooked penne pasta (I never use a full pound, it's just too much pasta)
2 tablespoons of extra virgin olive oil
4 cloves of garlic, minced
1 28 ounce can of crushed tomatoes
3/4 teaspoon salt
2 tablespoons of vodka
1/2 cup of heavy whipping cream
1/4 cup chopped fresh parsley
4 links of spicy Italian sausage links--if you can't find spicy, buy sweet, and add a pinch of crushed red pepper
1. Bring a large pot of lightly salted water to boil. Add pasta and cook until al dente. Drain.
2. While the pasta is cooking, heat olive oil over in a skillet over medium heat. Remove casing from sausage and add to skillet. Cook, breaking up meat, until browned. Add garlic and cook, stirring until garlic is golden brown.
3. Add tomatoes and salt to skillet; bring to a boil. Reduce heat and simmer for 15 minutes. (Another reason I love this recipe is you can actually start cleaning up before it's done. Really, there's nothing to do during those 15 minutes.)
4. Add vodka and cream and bring to a boil. Reduce heat to low and add pasta, toss for 1 minute. Stir in fresh parsley and serve!
If you're trying to reduce the fat content, you could easily omit the heavy cream. Obviously it gives it a richer flavor, but it would be just as tasty without!